MEDIA REVIEWS
Matt and Cat's Isle of Wight Eating Out Guide Tonino's, Cowes
HOW? In nearly two decades of reviewing, have we neglected Tonino's in Cowes - Shooter's Hill's is stalwart Italian restaurant?
We perused an extraordinarily imaginative range of dishes, including crevette, smoked salmon and mango salad; prawns with spinach and Isle of Wight black garlic and coconut oil; and "crazy water" bream fillet in broth.
From the specials menu, we chose the fish of the day; a whole sea bass presented in a foil parcel. Steam excluded the aroma of peperonata sauce - reduced red bell peppers and olive oil. The fish was under a haphazard lattice of samphire stalks, almost like it was swimming through the glasswort. The sea bass was incredibly tasty, retaining all the flavours in the delicious juice and its flesh separated easily from its many bones. It was a condimenty combo of ingredients; salt from the crisp samphire and pepper from the sauce adding to the fish's own intrinsic flavour.
The vegetables were served in delicious teriyaki, ginger and soy bean sauce, contributing a subtle Asian vibe to the dish. Meals are sometimes pushed in a certain taste direction where everything is simply spice. This dish had a balanced fusion of flavours.
Cat's linguine con canestrelli was another of Tonino's many innovative seafood dishes. We enjoyed the decent array of buttery scallops presented in a creamy sauce, with a hint of vermouth providing a sweet note. There were plenty of fresh garden peas, and the asparagus spears were just the right side of floppy.
Some ethnic eateries have a mismatch between mains and desserts, but in a good Italian restaurant the quality of both is usually guaranteed - and Tonino's is no exception. Sicilian lemon and mascarpone cheesecake was sparky and rich, with a conspicuous citrus fragrance. The garnish of tiny lemon wedges looked attractive, but they were alas too small to squeeze!
The classic tiramisu was nicely presented, with icing sugar snow and chocolate dust. The homemade trifle was really dense, and all the better for it.
We were delighted with our meal at Tonino's. Its longevity on Cowes High Street bears testament to it's excellence. The service was friendly and charming and we were really blown away by the creative menu. Well done, the Isle of Wight, once again showing us that there are still decent venues to be discovered.
Four star rating - Very good indeed, well worth seeking out.
MOTOR BOAT & YACHTING MAGAZINE
Tonino's featured in Top 10 Cruising Restaurants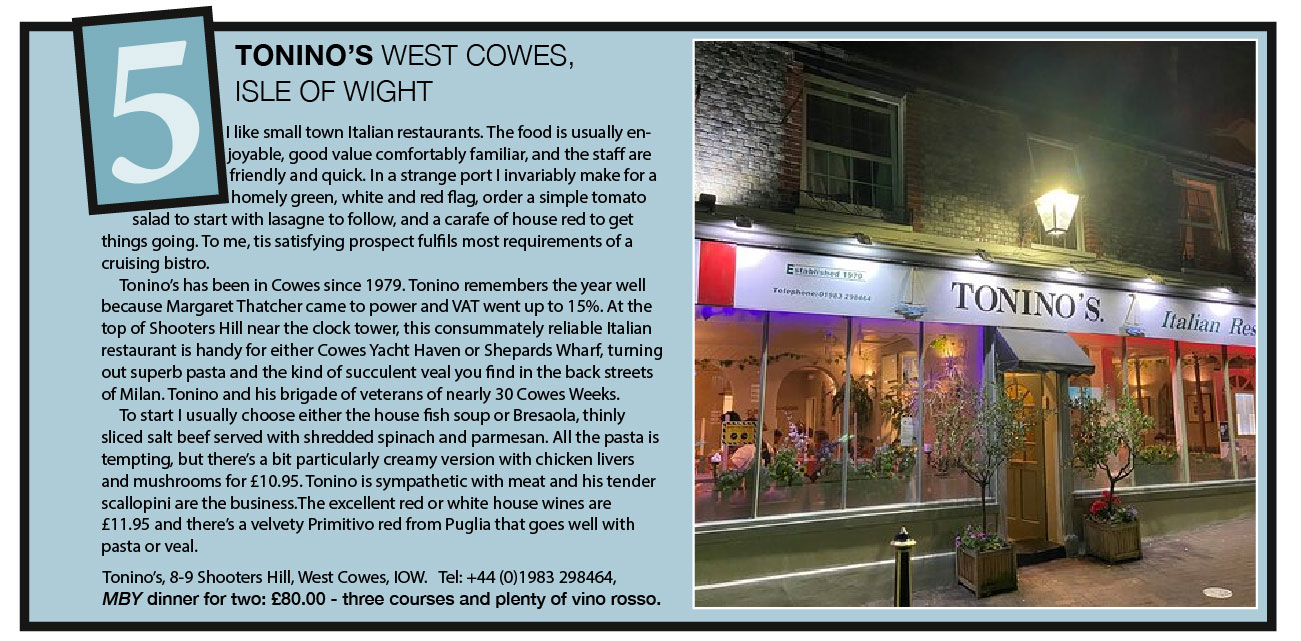 ADMIRAL'S CUP 1995
LA VITTORIA ITALIANA